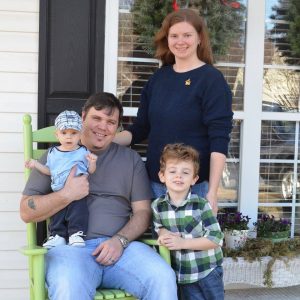 Michael and Karissa are relocating to Hilton, NY from Easley, SC, to join Parma Christian Fellowship Church and Parma Kids Child Care Center, Michael as co-pastor and Karissa as office administrator. This fund will help with all associated relocation expenses, such as travel between Easley and Hilton, rental truck for moving, costs for a team of helpers to come from New York, first month's rent in NY and utilities deposits (before salaries begin), and other necessary expenses.
Michael and Karissa have three young children and have limited on-hand funds for this great move. The church has all of the long-term financial resources for employment, but the immediate costs that are necessary for a family of five to move nearly 1,000 miles are not in hand. You can help!
Your donations will be made directly to Parma Christian Fellowship Church, which will carefully administer them as needed for these relocation expenses. A team of helpers will need to go from Hilton to Easley, while Karissa may be able to start at Parma Kids Child Care Center (a prime ministry of the church) immediately – registrations for next year are flowing in continuously and the 2018 graduation processes are started – the previous office person left after short notice and the center needs Karissa! Michael will begin as close to June 1 as is possible.
This is a single fundraising event designed to provide well for the relocation of this family for ministry purposes. Please help in any way you can – it will make a huge difference for the church, the center, and especially the Whitcomb-Tavey family! God bless and thank you!
Get Michael & Karissa to Parma